近些年,砂石行业发展非常的迅速,与此同时它也带动了很多相关行业的进步与发展,砂石设备行业就是其中之一。在砂石生产加工行业中不可或缺的两款设备大家应该都不陌生,分别为制砂机和洗砂机,今天,我们就着重来聊下洗砂机,对于想要购买价格优惠,质量靠谱的大型洗砂机客户而言会是个不错的参考。
In recent years, the sand and gravel industry has developed very rapidly. At the same time, it has also led to the progress and development of many related industries, and the sand and gravel equipment industry is one of them. The two indispensable equipment in the sand production and processing industry should be familiar to everyone. They are the sand making machine and the sand washing machine. Today, we will focus on talking about the sand washing machine. Reliable large-scale sand washing machine customers will be a good reference.
大型洗沙设备
大型洗砂机,是人工制砂生产线中的洗选设备,能够去除砂石表面的杂质,起到清洁的作用,在砂石厂、建材、矿山、水利水电等行业中用于对物料进行洗选,在市场上的需求量比较大,那么大型洗砂机多少钱一台呢?这是很多用户在选购时比较关心的问题,请看下面的具体分析。
The large-scale sand washing machine is a washing equipment in the artificial sand production line. It can remove impurities on the surface of sand and stone and play a cleaning role. It is used to wash materials in sand and gravel plants, building materials, mining, water conservancy and hydropower and other industries. Election, the demand in the market is relatively large, so how much is a large sand washing machine? This is a problem that many users are more concerned about when purchasing. Please see the specific analysis below.
大型洗沙设备
设备类型、型号、厂家都会影响其价格
大型洗砂机哪款设备先进价格又实惠? 虽说现在市场上充斥着各种各样的洗砂机,但是能够俘获用户心的却没几款。但是轮斗式洗砂机作为市场占有率较高的洗沙设备,有着绝对的资格可以称得上是先进又实惠的洗沙设备。 轮斗洗砂机设计有三种形式,分别为单轮洗砂机、双轮洗砂机、三轮洗砂机,之所以说此款洗砂机值得买,主要是因为它的性价比高。
Which large-scale sand washing machine is advanced and affordable? Although the market is flooded with all kinds of sand washing machines, few of them can capture the hearts of users. However, as a sand washing equipment with a high market share, the bucket wheel sand washing machine has absolute qualifications and can be regarded as an advanced and affordable sand washing equipment. The bucket wheel sand washing machine is designed in three forms: single-wheel sand washing machine, double-wheel sand washing machine, and three-wheel sand washing machine. The reason why this sand washing machine is worth buying is mainly because of its high cost performance.
大型三轮洗砂机
大型洗砂机有三排斗,小型的只有一排斗,所以处理量也不相同了。大型号洗砂机主要用于大型制砂生产线,一台顶小型三台处理量,成本却比三台小型的低不少。如下图所示 。 XS3500大型轮斗洗砂机,每小时能处理二百吨左右。
The large sand washing machine has three rows of buckets and the small one has only one row of buckets, so the processing capacity is different. Large-scale sand washing machines are mainly used in large-scale sand making production lines. One machine can handle three small machines, but the cost is much lower than three small machines. As shown below . XS3500 large bucket wheel sand washing machine can process about 200 tons per hour.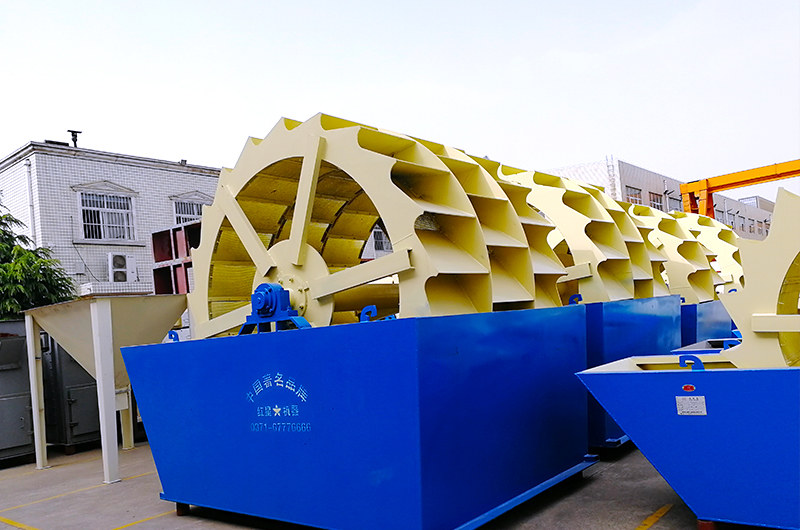 大型三轮洗砂机
大型洗砂机市场报价多少?
现在洗砂机市场有很多不同类型的设备,型号也大小不一,要说报价低的可以几千块,高的能有几十万,当然这其中肯定也包括一些非正规商家哄抬设备价格的操作,所以,参考价值并不大。比较好的询价方式是先选对您想要的设备,再依据生产情况选定合适型号,然后进行商家的选择,最后问厂家洗砂机价格。不同的用户需求的洗砂机型号不同,其配置也不同,洗砂机其成本投资因机型和配置而异。不同地区的生产厂家销售方式不同,而且消费水平高低不等,导致价格高低不等,要想买到价格经济实惠的洗砂机,需要多挑选几家设备将价格及性能进行对比,避免上当。
There are many different types of equipment in the sand washing machine market, with different models and sizes. To say that the low price can be several thousand yuan, and the high one can have hundreds of thousands. Of course, this certainly includes some informal businesses that are pushing up the price of the equipment. Operation, therefore, the reference value is not great. A better way to inquire is to first select the equipment you want, then select the appropriate model according to the production situation, then select the merchant, and finally ask the manufacturer for the price of the sand washing machine. Different user requirements have different models of sand washing machines, and their configurations are also different. The cost of sand washing machines varies with models and configurations. Manufacturers in different regions have different sales methods and different consumption levels, resulting in different prices. If you want to buy an affordable sand washing machine, you need to choose more equipment to compare prices and performance to avoid being fooled.