圆锥破碎机称为圆锥破。 这是破碎花岗岩较先进的破碎设备。 设备具有破碎比大,工作效率高,结构优良,性能优良等优点。它是当代采矿领域必不可少的设备。 本文介绍了该设备的性能优势,工作原理和技术参数。
The cone crusher is called cone crusher. This is a more advanced crushing equipment for crushing granite. The equipment has the advantages of large crushing ratio, high working efficiency, excellent structure and excellent performance. It is an essential equipment in the contemporary mining field. This article introduces the performance advantages, working principle and technical parameters of this equipment.
花岗岩圆锥破碎机
圆锥破碎机工作原理
圆锥破碎机主要由圆锥破碎机上的电机驱动,通过皮带轮或联轴器旋转,传动轴和圆锥部分在偏心套的作用下绕固定轴旋转,从而破碎。 该壁有时靠近固定在调节套筒上的轧制白壁的表面,并且远离该表面,从而使矿石在破碎室中连续地受到冲击,挤压和弯曲,以实现矿石的破碎。 整个圆锥破碎机的工作原理科学合理,破碎效果显着。
The cone crusher is mainly driven by the motor on the cone crusher. It rotates through a belt pulley or a coupling. The drive shaft and the cone part rotate around a fixed shaft under the action of an eccentric sleeve to crush. The wall is sometimes close to the surface of the rolled white wall fixed on the adjusting sleeve and far away from the surface, so that the ore is continuously impacted, squeezed and bent in the crushing chamber to realize the crushing of the ore. The working principle of the whole cone crusher is scientific and reasonable, and the crushing effect is remarkable.
破碎花岗岩新设备-移动式花岗岩碎石机
随着市场的发展,必须有新思想、新思路。 移动式碎石机是豫腾欣设计的一系列化石,水泥熟料,建筑废料和碎石设备。 它可以破碎粗,中,细的物料,筛选,输送,进料等设备的整合充分体现了设备的功能。 从客户的角度来看,它可以为客户提供简单,方便,高效,低成本和高利润的破碎设施。 各种类型的移动式花岗岩碎石机的组合:移动式花岗岩碎石机可分为多种型号以进行免费组合,例如颚式破碎机,反击式破碎机,圆锥式破碎机,锤式破碎机,冲击式破碎机以及其他可以破碎的设备。 完全灵活。 进料和粉碎可以完成整机各种系统之间的理想匹配。 粗粉碎,中粉碎,细粉碎等各种粉碎形式可以自由互换,充分发挥了粉碎功能。河南豫腾欣矿山机械破碎设备制造商 开发的颚式破碎机,冲击式破碎机和圆锥式破碎机被广泛用于生产青石,花岗岩,石灰石和其他碎石。
As the market develops, there must be new ideas and new ideas. The mobile crusher is a series of fossil, cement clinker, construction waste and stone crushing equipment designed by Yu Tengxin. It can crush coarse, medium and fine materials, and the integration of screening, conveying, and feeding equipment fully reflects the functions of the equipment. From the customer's point of view, it can provide customers with simple, convenient, efficient, low-cost and high-profit crushing facilities. Combinations of various types of mobile granite crushers: Mobile granite crushers can be divided into multiple models for free combination, such as jaw crushers, impact crushers, cone crushers, hammer crushers , Impact crusher and other crushing equipment. Fully flexible. Feeding and crushing can complete the ideal match between various systems of the whole machine. Coarse pulverization, medium pulverization, fine pulverization and other pulverization forms can be freely interchanged, giving full play to the pulverization function. The jaw crusher, impact crusher and cone crusher developed by Henan Yutengxin mining machinery crushing equipment manufacturer are widely used to produce bluestone, granite, limestone and other crushed stones.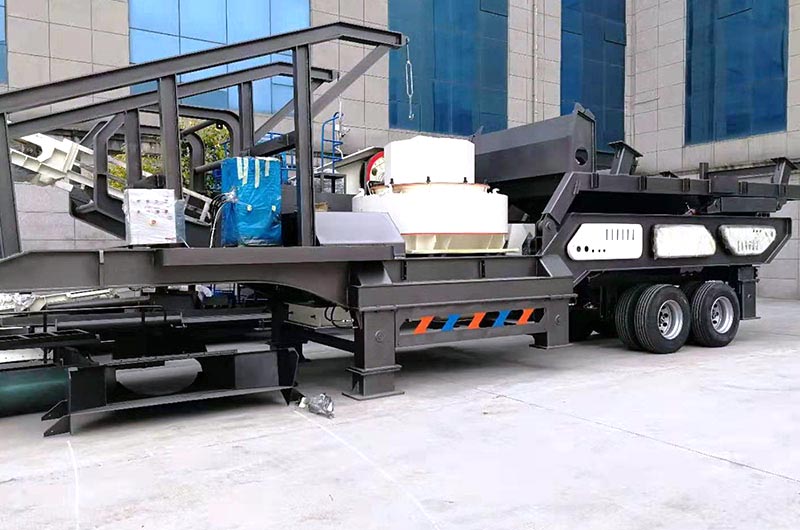 移动式花岗岩碎石机
移动式破碎机是一种新型的高效碎石设备,解决了粗碎作业位移空间的限制。 与普通破碎机相比,移动式破碎站具有移动方便,占地面积小,选址直接的优点,放置在现场即可投入生产。 由于破碎站直接建在矿山地面上,省去了大量的卡车运输,因此可以广泛用于采矿业的不同运营和生产项目中。
Mobile crusher is a new type of high-efficiency stone crushing equipment, which solves the limitation of displacement space for coarse crushing operation. Compared with ordinary crushers, mobile crushing stations have the advantages of convenient movement, small floor space, and direct location selection. They can be put into production when they are placed on site. Because the crushing station is built directly on the mine ground, it saves a lot of truck transportation, so it can be widely used in different operations and production projects in the mining industry.